Work gets under way on A9 Kessock Bridge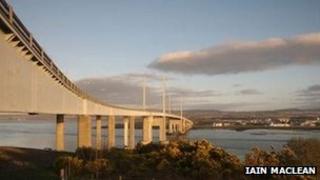 Almost five months of roadworks have begun to revamp the Kessock Bridge at Inverness.
The bridge will be resurfaced and upgraded in a £13m programme of improvements which will involve further roadworks from February and June 2014.
Transport Scotland said that the use of state-of-the-art materials means the bridge will not require major work for another 30 years.
Opened in 1982, the bridge is a crossing on the A9.
Two weeks of resurfacing work is also set to begin on Monday on the A9 south of Inverness.
The work, nine miles (14.5km) from the city, will be part of a £250,000 package of improvements to the dual carriageway.
Traffic lights and a convoy system will be in place during the work.