'Sit down and talk' offer on Western Isles schools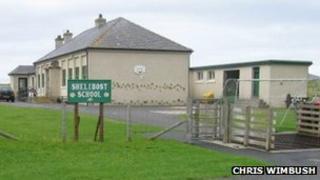 Education Secretary Mike Russell has offered to hold talks with the leader of Comhairle nan Eilean Siar on the future of three schools.
Carloway and Shelibost primaries and S1 and S2 education at Shawbost are earmarked for closure.
The Scottish government opposes the closures, but the comhairle believes pupils' education can be better provided at other neighbouring schools.
The row has been the subject of legal argument.
The latest twist in the court battle saw three appeal judges uphold an earlier judicial review decision that the comhairle had acted properly in its process of closing the schools.
The judges' opinion also said the government had a right to call in the local authority's original decision to shut the schools.
A further procedural hearing is to be held on the matter.
Angus Campbell, leader of the comhairle, said the local authority's procedures had now been tested twice through the courts and found to be correct.
'Very strenuous'
He said: "I think if you read the judgement the 24 to 25 pages are very much supporting the comhairle's point of view.
"There is the bit at the end about the call-in procedures which we need clarity on."
Mr Campbell added: "We need it quickly because pupils, schools and parents are waiting for answers to this. It has been very, very strenuous on them as well as everyone else."
Mr Russell said the comhairle should scrap its plan to close the schools.
He said: "In terms of the schools themselves there is another delay and I think that is immensely regrettable.
"We should get this over with and that is up to the local authority and I have already said to Angus that I am happy to sit down with him.
"Let's talk this through. Let's get this resolved."