Earthquake recorded at Durness in Sutherland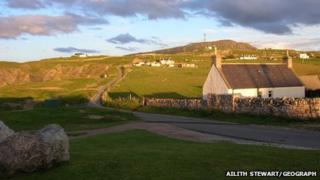 A 2.4 magnitude earthquake has been recorded at Durness, the largest village in the remote north-western corner of Scotland.
The British Geological Survey recorded the quake at 04:16 on Thursday and there were reports of it being felt by people living at nearby Loch Eriboll.
Small earthquakes are frequently recorded in the Highlands.
In December, a 1.6 magnitude tremor was felt in Spean Bridge in Lochaber.
Also, in the same month, a 1.7 magnitude quake was recorded near Sheildaig and was felt by residents of Sheildaig and Lochcarron in Wester Ross.
Durness in Sutherland is one of the few places in mainland Scotland to still be reached by a single-track road.
The village also sits in Scotland's first European geopark.
The North West Highlands Geopark is part of a European network of areas with important geology. It has rocks of more than 3,000 million years old.
Durness was regularly visited by Beatles singer-songwriter John Lennon during childhood summer holidays.
He later returned in 1969 with his wife Yoko Ono and their children.
During the trip, the family had a car accident near Loch Eriboll. Lennon received 17 stitches for facial injuries, while Ono received 14 stitches in her forehead.