Eagle owl seen near Inverness city centre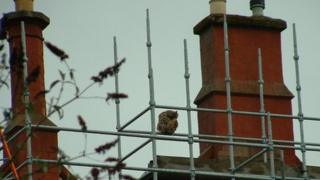 Fresh sightings have been made of a large Eurasian eagle owl near Inverness city centre.
Three men now claim to have been attacked by the bird of prey, a species of owl not native to the UK.
Tommy Horne, who runs Birds of Prey Rescue and has been trying to catch the owl, has said the bird was unlikely to hurt anyone unless it was cornered.
The latest sightings of the bird have been made at former hostel that was ruined in a fire.
Escaped eagle owls have previously been caught in Inverness in 2009 and in 2006, when an owl was seen feeding from bird tables in people's gardens.