Artist creates new maps of Skye and Portree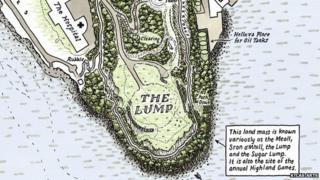 An artist has hand drawn maps of the Isle of Skye and its town of Portree as works of art and "playful navigational tools".
J Maizlish Mole spent weeks walking and driving around the island.
On his maps, Mole has named landmarks using his own descriptions and also those used by local residents.
The names include "Huge Supermarket" and "ghost trail" - an old route mentioned by islanders and the remains of which Mole found on Google Earth.
"Oops" and "Bumblebee Tree" are among other words and names on the maps.
Commissioned by Atlas Arts and Portree Area Community Trust, the two maps will be unveiled as public art in a ceremony in Portree later.
In 2011, Atlas Arts was involved in arts project Bonnie Boat which had a yacht decorated with 60,000 tiny mirrored tiles as its centrepiece.
Mole has previously created a map of Edinburgh for the Edinburgh Art Festival.
He also has an ongoing project called Promised Land. Started in 2006, it is a giant map of the US in which all geographical features are represented as they appear in song titles or lyrics, such as Don't Forget Winona, Death Valley '69 and Oklahoma!
Mole said his maps of Skye and Portree represented places as he had experienced them on a series of trips during May, June and October last year.
He said: "Although this process results in more or less accurate, navigable maps, the objective along the way is always the mapping out of the lived experience and the impression left, rather than of the terrain itself."