Skye pupils could attend mainland high school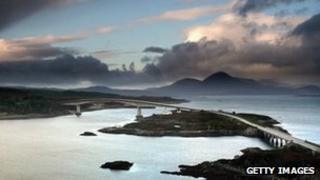 Children from a community on Skye look set to attend a high school on the mainland rather than the island's secondary school.
Kyleakin is in the catchment area for Portree High School, which is 30 miles (48km) away.
However, Plockton High School on the mainland is seven miles (11km) away.
Highland Council's adult and children's services committee will be asked to agree that Kyleakin pupils be allowed to go to Plockton.
After tolls ended on the Skye Bridge, some Kyleakin parents started sending their children to Plockton.
Following calls from parents for a formal change to the catchment, Highland Council agreed last year to examine the situation.
Councillors will be asked to approve the change next week.