Horse called Tarzan aids Sutherland woodland restoration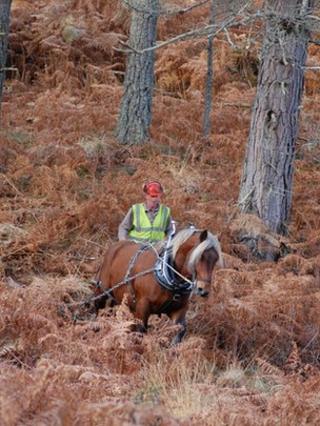 A horse has been used to remove non-native larch trees from protected woodland near Spinningdale in Sutherland.
Tarzan, a five-year-old Comtois, hauled the logs from the Migdale Rock Site of Special Scientific Interest in Ledmore and Migdale Woods.
The horse caused less damage to rare plants than modern forest machinery.
Woodland Trust Scotland and Scottish Natural Heritage are restoring ancient native pine woods in the area.
About 80 people gathered to watch Tarzan - a logging horse owned by Brian Green, from Rogart - at work.
Ledmore and Migdale Woods site manager Eleanor Garty said conventional machinery would have risked crushing rare plants and compacting soil.
She said: "Horse logging causes significantly less damage.
"Any disturbance tends to be superficial, and in some cases the 'scarification' caused by the horse can actually help distribute colonies of rare plants around the woodland.
"We could just fell the non-native trees and leave them in the wood, and this is what we will do in some areas, where they are inaccessible, or far from the track.
"On the other hand, timber is a valuable resource, and larch is a very durable wood, prized for a wide variety of purposes. So where we can, we plan to extract the trees that we fell and put them to good use."