Highland park's polar bear Arktos undergoes root canal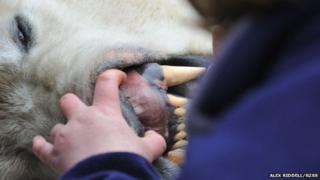 A polar bear at a Scottish wildlife park has had root canal treatment on a rotted tooth.
A team of vets spent three hours working on Arktos, who weighs 75 stones (477 kg) and had been sedated.
Arktos shares an enclosure at the Highland Wildlife Park at Kincraig with Walker, also a male bear. Walker required dental treatment in 2011.
The bears' keepers said the operation on four-year-old Arktos on Thursday morning was successful.
Broken or infected teeth can lead to the death of a polar bear, the park's owners the Royal Zoological Society of Scotland said.
Walker and Arktos are trained to open their mouths for their keepers so their teeth can be examined on a regular basis.
Arktos' subdued behaviour alerted staff to a problem with his upper left canine tooth.
After he was darted, he was placed on an operation table constructed from scaffolding poles and thick planks.
Douglas Richardson, animal collection manager at the park, said the vets and park staff were pleased with how the operation went.
He said: "Arktos really is a lucky bear and we were delighted to be able to save his tooth.
"In the wild the infection would have tracked through his system, causing him a great deal of pain and discomfort and, over the longer term, it could eventually kill him."