Inverness College-built nest boxes aid St Kilda birds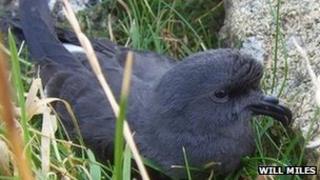 Nest boxes built by carpentry and joinery students could help to reverse the decline in rare Leach's storm petrels on St Kilda.
The remote archipelago was home to 45,000 pairs in 1999, with 27,700 of those pairs inhabiting Dun, one of the four main islands in the group.
By 2003, Dun's population had halved and the National Trust for Scotland said numbers have continued to fall.
This year, petrels have nested in boxes made at Inverness College UHI.
NTS, which manages St Kilda, said it believed this to be the first record of Leach's storm petrels breeding in an artificial burrow.
Nest boxes had been tried before in an effort to better understand their behaviour, but adult birds abandoned their eggs shortly after they were laid inside.
The boxes were then redesigned to mimic the cramped spaces petrels prefer as their natural nest sites.
Susan Bain, the NTS manager for St Kilda and the Western Isles, said: "Leach's storm petrels are quite difficult to observe because they breed in hollows and cracks in the rocks and only return to their burrow after dark.
"Previously, researchers had installed wooden nest boxes in the hope that these would attract breeding pairs and make it much easier to study them.
"This wasn't successful as, although petrels did visit the boxes over the years, only one egg was laid but was deserted and no further breeding took place."
Ms Bain added: "Gina Prior, the seabird and marine ranger on St Kilda, and I put our heads together and we realised that we needed a smaller design of nesting box."
Studies carried out in recent years suggested another rare seabird could be a factor in the reduction in the storm petrel numbers.
Researchers from Glasgow University investigated suggestions that great skua, or bonxie, may be eating up to 14,000 petrels every year.
They found the skua were preying on petrel colonies at night - something thought to be unique to St Kilda.
Ecologist Will Miles and fellow researchers used night vision gear to observe the bonxie.