Gairloch canoe capsize: Communities devastated by deaths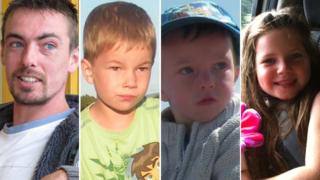 The deaths of three children after a canoeing accident has devastated the small communities where they had lived, local councillors have said.
Ewen Beaton, five, and his two-year-old brother Jamie along with Gracie Mackay, five, died in hospital after their boat overturned off Gairloch on Sunday.
Shoreline searches for the body of the boys' father Ewen, 32, have been stood down for the day.
The police said they would continue their efforts over the coming days.
Councillors, whose wards include the Beaton and Mackay's homes near Inverness, said it was a tragedy.
Gracie's father, 36, and sister Callie, eight, swam to shore after the accident in a sea loch in north west Highlands.
The Beatons, from near Beauly, and Mackays, from Muir of Ord, were on a day trip.
They had gone out in a narrow-designed Canadian canoe.
After the craft overturned, Gracie's sister and father managed to alert the coastguard when they reached the shore.
Graham MacKenzie, a councillor for Highland Council's Dingwall and Seaforth ward, said people in Muir of Ord had been shocked by the incident.
He said: "I know how terrible the community is feeling.
"It's a small community, but it's a very active one and very close-knit."
The former secondary school headteacher added: "The one thing I'm confident about is that the family will receive as much help and support as they want."
Fellow Dingwall and Seaforth councillor Margaret Paterson said: "It's an unbelievable tragedy.
"My prayers are with the family and my heart goes out to them.
"There are no words that will comfort them at this time."
Highland Council leader Drew Hendry, whose Aird and Loch Ness ward includes Beauly, said: "This is a terrible tragedy that impacts on a close-knit community.
"On behalf of the council, I want to extend our deepest sympathies to the family.
"Our thoughts are with them at this very sad time."
'Utterly devastated'
Brothers Ewen and Jamie Beaton were airlifted to Raigmore Hospital in Inverness, but Northern Constabulary later confirmed they had both died.
Gracie was flown to hospital on Skye then transferred to the Royal Hospital for Sick Children in Glasgow where she passed away with her parents at her bedside on Monday afternoon.
A shoreline search for Mr Beaton's body was started earlier north of Gairloch but stood down at the end of the afternoon.
Northern Constabulary said changeable conditions, with heavy downpours and high winds, had not affected operations but sadly there was still no sign of Mr Beaton.
Insp Neil Mackinnon, Northern Constabulary's Ross-shire area commander, said: "The previous searches on Sunday and Monday were extensive water and air searches, supplemented by land searches.
"We have family liaison officers working with both families and the local communities to support them as best we can at this incredibly difficult time."
In a statement, the Beaton family said: "We are utterly devastated by what has happened and the loss of our beautiful little boys.
"We appreciate all that has and is being done by emergency services to find their adoring father, Ewen."
Five-year-old Ewen had just started at Teannassie Primary School, near Beauly, and his two-year-old-brother Jamie was due to begin nursery in the new year.
Highland Council said the 61 children who attend the school and their teachers were receiving specialist support.
The chairman of the school's parent council said the school and wider community were "devastated".
'Deeply saddened'
In a statement, the Mackay family said: "Grace was a funny, caring, thoughtful daughter and granddaughter, full of life who loved animals and being outdoors.
"She adored her family and was our beautiful angel. We are devastated by the loss of our best friend."
Tracy Sinclair, the girl's headteacher at Tarradale Primary School in Muir of Ord, said: "Gracie Mackay was a happy, thoughtful little girl who was popular and well liked by everybody.
"This has come as a shock to the whole school community and we are all deeply saddened."