Historic Scotland's Fort George event draws biggest crowd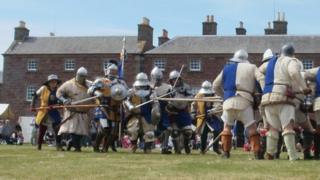 Historic Scotland's biggest annual event drew its largest crowds yet over the weekend.
The public agency said Celebrations of the Centuries at Fort George, near Inverness, attracted almost 7,500 visitors.
Historic Scotland said its staff were already planning next year's event, which it said could be "even bigger and better".
Two World War II fighter planes were among the weekend's highlights.
The British Spitfire and US Mustang performed aerial displays above the Moray Firth.
Fort George, a working barracks built in the 1700s, sits on the southern shores of the firth.
Roman re-enactment group, the Antonine Guard, along with organisations representing the Iron Age, Middle Ages, Napoleonic Wars and the two world wars also featured.
Historic clashes were re-enacted, including 1488's Battle of Sauchieburn near Stirling.
Dancers accompanied by a band playing music from the 1940s also performed.
Gillian Urquhart, events manager at Historic Scotland, said the event had benefited from good weather.