Councillors scrap move away from Inverness town house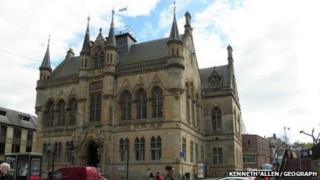 Inverness councillors have scrapped a plan to move all their meetings away from the city's historic town house.
Meetings of Highland Council's Inverness city committee were to be shifted to the local authority's headquarters in Glenurquhart Road.
The building is better equipped for streaming footage from meetings live onto the internet.
Councillors were concerned the move would diminish the role of the town house.
In a year-long trial, webcasting equipment will be hired for use in the 130-year-old city centre property.
The town house has hosted the only gathering of a UK government cabinet outside London.
Liberal Prime Minister David Lloyd George, who was on holiday in Wester Ross, brought his ministers together in Inverness in September 1921.
The meeting was called following Ireland's rejection of the king. Lloyd George had been in holiday in Gairloch at the time.