Near misses over Scotland during Nato war games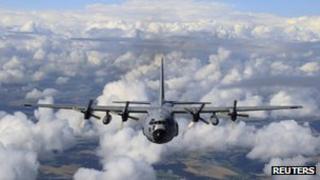 Two near misses involving military aircraft occurred over Scotland during Europe's largest military exercise, it has emerged.
A Tornado GR4 jet and a Merlin helicopter were involved in the first incident over Skye and a Tornado and a C130 plane in the other over Moray.
The incidents came during Exercise Joint Warrior in April.
Both were investigated by the Civil Aviation Authority (CAA) UK airprox board.
Joint Warrior is held twice a year - in April and October - and sees Nato armies, navies and air forces training around Scotland and the rest of the UK.
Of the two near misses, the incident on 24 April near RAF Lossiemouth, in Moray, was categorised by the board as the most serious.
A Tornado crew flew about 25-50ft above and about 100-300ft away from one of two C130s coming into land at the air station after a training mission.
The transport planes were understood to be with the US Air Force.
Earlier, on 19 April, a Tornado GR4 flying out of Lossiemouth passed less than a mile away and 250ft above a Royal Navy Merlin.
The airprox board said the jet crew flew close enough to cause the helicopter pilots concern.