Forres-based charity to plant one million trees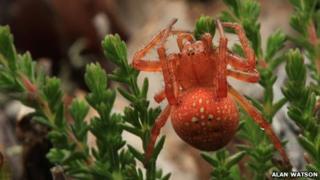 A conservation charity wants to plant one million native trees in Scotland over the next five years.
Forres-based Trees for Life completed a previous project to plant one million saplings in May.
The organisation owns large areas of woodland, including forestry on its 10,000-acre Dundreggan Estate near Loch Ness.
The land includes some of the last stands of Scotland's ancient Caledonian Forest.
Trees for Life executive director, Alan Watson Featherstone, said the new trees would enrich Scotland's landscape.
He said: "We have set ourselves this challenge as a response to the threats posed by environmental degradation globally and human-induced climate change.
"At the same time it is part of a positive vision of re-establishing world-class wild landscapes rich in wildlife in Scotland.
"The Highlands in particular, with a lot of empty land and a low population density, is a perfect region for tree planting."
Two years ago, surveys of Dundreggan Estate revealed a "lost world" of rare and endangered spiders, ants and flies.
Finds include strawberry spider, azure hawker dragonfly, juniper shield bug and blood red slave making ants.
Trees for Life bought the estate in a £1.6m deal in 2008.