Isles freight ferry fares to be assessed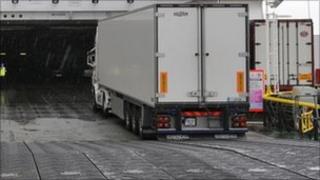 The Scottish government will examine the effects of removing discount ferry fares for large freight on crossings between the Hebrides and the mainland.
Earlier this year, Western Isles haulage firms campaigned against the withdrawal of road equivalent tariff (RET).
Transport Minister Keith Brown said the government will listen again to their concerns.
He added that "no guarantees" of action were attached to that offer.
RET was introduced as a pilot on ferry services in the Western Isles, Coll and Tiree in 2008.
From March it was withdrawn from all commercial vehicles that are longer than six metres.
The government said arrangements were in place that prevents fares increasing by more than 50% in any one year.
Mr Brown met with island councillors and haulage bosses on Tuesday and discussed the issue of ferry fares.
Later, he said: "I said to them that we will have a look at that and listen to their concerns again.
"There is no guarantee attached to that, but we have said that we will look at it."