Vote favours community buyout of Lewis' Carloway Estate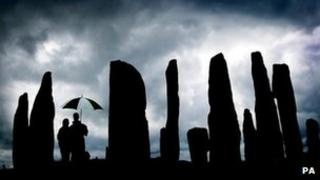 A steering group is to be set up to look at a potential buyout of Carloway Estate on Lewis.
Some of the 11,400 acres (4,613.4 ha) involved surrounds the ancient Callanish Standing Stones, which inspired scenes for new film Brave.
At a public meeting on Tuesday night, people voted 49 to three in favour of pushing ahead with plans for a proposed buyout.
A steering group will now be set up and a feasibility study commissioned.
Kenny Maclennan, who chaired the public meeting, said he had been encouraged by the turnout.
He said it was recognised that there were important historical sites on the estate.
They include Callanish stones, which are managed by Historic Scotland, and also Dun Carloway , a well-preserved Iron Age broch.
Mr Maclennan said: "We have very important historic sites throughout the estate.
"We have to work with the organisations that own these sites to the benefit of the estate.
"There are situations where development may be hindered by having these on the estate, but we to look at that in a positive way so these become an asset to the community as a whole."