Tornado jet crash: Three victims named by MoD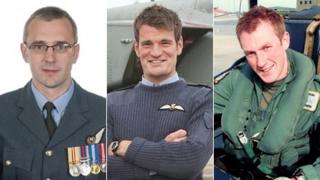 The names of three airmen who died after two Tornados GR4 jets crashed in the Moray Firth have been released.
Bangor-born Flt Lt Hywel Poole, 28, died in hospital after being airlifted from the scene.
The bodies of Sqn Ldr Samuel Bailey, 36, from Nottingham, and Flt Lt Adam Sanders, 27, who grew up in Lancashire, have still to be recovered.
The sole survivor of the incident, who has not yet been named, is in a serious but stable condition in hospital.
The planes from 15 (Reserve) Sqn at RAF Lossiemouth, in Moray, crashed into the sea south of Wick, in Caithness, during a training flight on Tuesday afternoon.
Two of the airmen were picked up by helicopter and taken to hospital, and parts of their jet have been found and taken ashore.
Efforts to find the other plane and recover the missing crew and wreckage are continuing.
The names of the three men were released by Defence Secretary Philip Hammond in the House of Commons.
He said: "I am sure the House will wish to join me in paying tribute to the crew from 15 (Reserve) Squadron, based at RAF Lossiemouth, who were involved in the Tornado GR4 aircraft incident on Tuesday.
"My thoughts - and, I am sure, those of the entire House - are with their loved ones at this difficult time, and with the fourth member of the squadron involved in the incident, who is currently in a serious but stable condition in hospital."
The training squadron's commanding officer, Wing Cdr Jonathon Moreton paid tribute to the three men.
He said Sqn Ldr Bailey, an instructor, had served on operations in Iraq and Afghanistan.
Wing Cdr Moreton said: "He touched all the parts of the squadron. An immensely likeable character and professional aviator, he will be sorely missed.
"Sam was fully committed to all aspects of service life; however, he valued his family time the most.
"The squadron's and my thoughts are with his wife, Fiona, and young daughter Erin at this immensely difficult time."
Flt Lt Poole, who was training on Tornados, was described as having an "outgoing" personality.
Wing Cdr Moreton said he had displayed a "natural talent for flying the Tornado".
He added: "He quickly established himself on the squadron as a very capable and confident pilot which, coupled with his keen sense of humour and engaging character, made him a very popular student on the squadron."
Flt Lt Sanders had previously flown Hawk jets.
Wing Cdr Moreton said: "Flight Lieutenant Adam Sanders was a talented pilot who was recognised early on in his RAF career for his flying ability and professionalism."