Toxic algae cancels kayak section of Wick Wolf Triathlon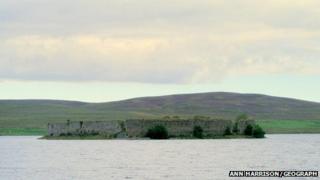 Toxic blue green algae in a loch has forced organisers of a triathlon to cancel the kayak section of the event.
Highland Council warned last month that the water of Lochindorb, near Grantown-on-Spey, had been affected.
Some forms of the algae can cause skin rashes, eye irritations, vomiting and diarrhoea, fever and pains in muscles and joints.
The 30K mountain bike and 10K run sections of the Wicked Wolf Triathlon will still go ahead on 21 July.
A 3K has been added as a replacement for the paddle on Lochindorb.
The event is named after the notorious 14th Century lord, Alexander Stewart - known as the Wolf of Badenoch - who had a stronghold on an island in Lochindorb.
Stewart earned notoriety for destroying Elgin Cathedral in 1390.
Event organiser Gemma Powell said it was with regret that the kayak section had been withdrawn.
She said: "We have been monitoring the situation and have taken advice from environmental health officers, hoping that the algae would disperse before our event, but unfortunately it is still present.
"We can't leave it until the last minute to put plan B into action so we are cancelling it now.
"We are doing so for the safety of our competitors and all our helpers on the loch and hope that everyone understands that this is a situation out with our control."