Roman find made in Selkirk in Treasure Trove report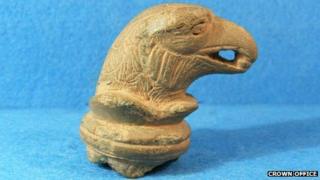 A rare Roman artefact and a weight set that could be evidence of illegal trade between the Highlands and Europe have been among finds made in Scotland.
A copper alloy cast in the shape of an eagle head uncovered in Selkirk is the first Roman relic of its kind to have been found north of the border.
The weights dating from the 1700s were unearthed at Fortrose.
The finds, along with others made in Perth and Kinross and Fife, are mentioned in a new report.
The seventh annual Scottish Treasure Trove report catalogues ancient and historic items found between April 2011 and March this year.
The Queen's and Lord Treasurers Remembrancer (QLTR) and the Scottish Archaeological Finds Allocation Panel (SAFAP) dealt with the discoveries.
Under Scots law, the Crown can claim any archaeological objects found in Scotland.
Finders have no ownership rights and must report any objects to the Treasure Trove Unit.
QLTR Catherine Dyer said the new publication confirmed another "magnificent year" of finds.
She added: "Some outstanding and very significant finds have been reported, preserved and displayed in museum collections around Scotland.
"Once again I would like to praise the tireless work of the Scottish Archaeological Finds Allocation Panel, the National Museums of Scotland, the Treasure Trove Unit and the QLTR office.
"Thanks should also be given to the hundreds of members of the public who have played an important part by reporting their finds and in doing so have assisted in preserving the history of Scotland for all to enjoy."
The copper eagle head found in the Borders would have been a feature on a Roman wagon.
Only a small number are known to have been uncovered in Britain and none previously in Scotland.
The complete weight set from Fortrose, in the Highlands, was made in Nuremberg and calibrated for Emden, a city in Germany.
Use of the measurements would not have been legal in Scotland's burghs, according to the Treasure Trove report.
However, this type of set were commonly found in markets on the fringes and perhaps suggest that an "unruly free enterprise" existed between Scotland and European trade networks, the report added.