Inverness to Ulaanbaatar rider breaks ankle in Mongolia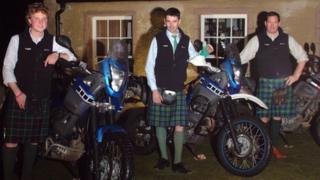 A man raising money for a hospital near his home by riding a motorcycle from Inverness to Ulaanbaatar required medical treatment in Mongolia.
Jonathan Coats broke an ankle just four days away from his final destination.
Mr Coats along with fellow Highlanders Quintin Stevens and Garry Campbell have travelled 9,000 miles (14,484). They are due to fly home next week.
The trip has raised £55,000 for Raigmore Hospital Renal Unit, Marie Curie and other charities.
Mr Coats, who works for his family's Highland-based engineer firm, carried out repairs to the trio's motorbikes during the journey to Ulaanbaatar in Mongolia.
He said: "We thought we'd had our lot of breakages with the support vehicle and the bikes throughout the month, but my ankle seems to have topped the list.
"It is, of course, incredibly frustrating to be unable to finish the last few days of the challenge."
Mr Stevens and Mr Campbell were able to ride into the city and complete the charity ride.
The men said they had received tremendous support in getting Mr Coats medical attention.