Gaelic, English and dialects pledge from Highland Council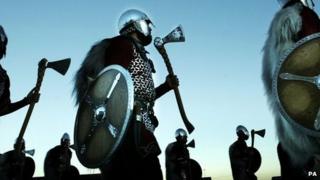 Highland Council has made a commitment to give equal respect to Gaelic and English and also recognise the region's "indigenous language" and dialects.
Caithness Scots and English influenced by soldiers sent to Inverness from England in the 17th Century are among language and dialects spoken.
The commitment has been made in the council's new programme of priorities.
Michael Hance, director of the Scots Language Centre, said it was a welcome step but it could go much further.
The programme of priorities sets out how the council's administration - which is led by the SNP and involves the Lib Dems and Labour - will deliver services and work with its staff and the public.
A pledge on language is often repeated in the document.
It reads: "The council will commit to the principle of equal respect for the Gaelic and English languages, whilst also recognising the diversity of the indigenous language and dialects within the Highland area."
Three languages are spoken in the region according to Mr Hance at the Scots Language Centre - Gaelic, English and Caithness Scots .
According to Gaelic culture website Am Baile, three Scots dialects were thought to have been spoken in the small coastal village of Cromarty.
The knowledge of speaking them fluently has been dying out.
English spoken in Inverness, meanwhile, is believed to have been influenced by soldiers sent to the Highlands from England by Oliver Cromwell in the 1600s.
Depute leader of Highland Council David Alston said the meaning of language and dialect could become "bogged down in sterile debates".
The Lib Dem councillor, who lives in Cromarty, said: "Gaelic is clearly a distinct language of the Highlands and our commitment to Gaelic is clear.
"Our aim is to increase the number of fluent Gaelic speakers.
"This must be the overarching priority in implementing our Gaelic Plan because, without that increase, Gaelic's survival is threatened."
Mr Alston added: "But it is also important that all children and adults are confident in the use of their native language and dialect and, for most children in the Highlands, that will be a variety of English.
"We should celebrate and enjoy the richness of this variety in language.
"While it is important that children are able to use some form of standard English, and are able to judge when its use is appropriate, we must get away from any idea that some varieties of English are inherently superior to others."
Mr Alston said he regarded Scots as a variety of English equal to the language's many other varieties.
A local historian, he said that how people in places such as Caithness, the west coast, Wick, Nairn, Dingwall and Inverness have spoken in the past and do so today should be celebrated.
He added: "We also need to be open to changes in language and to its emerging new varieties.
"In this case it is more the adults who need the education. The natural environment of young people is their peer group, within which new forms of language, too easily dismissed as slang, are constantly appearing.
"We need to open our ears to the rich new meanings of familiar words."
Mr Hance said the local authority's commitment to language and dialect was welcome but only the "beginning of a process".
He said the document had failed to properly recognise Scots as one of the region's languages.
Mr Hance said Caithness Scots was closely connected to, and not separate from, Scots spoken across Scotland.
"Caithness Scots is generally considered to be influenced by the language that was spoken there before Scots speakers arrived," he said.
"The language that was spoken there previously was an old form of what we now call Norwegian, and that language was replaced by Scots.
"What you get in Caithness Scots is some remnant of the old tongue, but not as much as you get in Orkney and Shetland, but they are there."
Mr Hance added: "If you don't recognise the truth of the languages of places like Caithness, you cannot do anything about sorting out how to encourage the dialect in modern life."