Northern isles ferry workers to ballot over strike action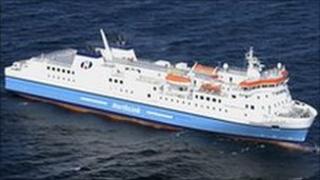 Ferry workers in the Northern Isles are to ballot for strike action amid concerns about their pensions.
The RMT union said there were fears among the workforce that conditions would change when Serco takes over from publicly owned NorthLink next month.
The union said it was concerned the change would adversely impact pensions and lead to possible job losses.
Serco is due to take over as the operator of the Northern Isles Ferry Service from 5 July.
RMT general secretary Bob Crow said: "RMT always said that this deal was about maximising profits at the expense of services, fares and the workforce and our fears are proved well-founded by this pensions scandal."
Jamie Ross, business development director at Serco, said: "We have had a series of recent meetings with staff and unions and the discussions have been constructive.
"Over the coming weeks we will continue working with both the unions and employees to discuss a number of issues."