Ants protection plan 'needed' for Beauly-Denny project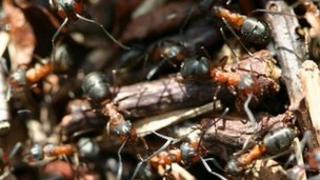 Officers at a national park have said a project to replace a power line must have a plan to protect rare wood ants.
Steel electricity towers are to be replaced with smaller, less obtrusive, wooden poles between Etteridge and Boat of Garten in Badenoch and Strathspey.
The work is a condition of the major upgrade to the Beauly to Denny line.
Planning officials at the Cairngorms National Park Authority have not objected to the proposal, but do wish to see an effort to protect the ants.
The park's ecology officer believes that rare Scottish, narrow headed and also hairy wood ants are present along the line.
Forest ecosystem
Ants are seen as playing an important part in forest ecosystems.
The invertebrates distribute plant seeds and prey on creatures that harm trees and other plants.
In a report to the park's planning committee, which will meet on 25 May, officials said it appeared that no consideration had been given to the ants.
They added: "It is recommended that a species protection plan is created for wood ants and that this incorporates suitable mitigation measures."
The paper goes on to recommended that, provided efforts were made to protect wildlife, the park make no objection to Scottish Hydro Power Distribution's proposed work to the line.
Officers said replacing large steel towers with wooden poles would "result in a permanent beneficial impact".
The power line between Beauly in the Highlands and Denny, near Stirling, is being upgraded at an estimated cost of £600m.
The project will see new 42m to 65m tall towers along the 130-mile (209km) upgraded route.
Work to remove a string of existing steel electricity pylons in the Cairngorms National Park started last year.
About 33 miles (53km) of overhead transmission lines are to come down between Boat of Garten and Cairnmore.
A further 68 miles (109km) of overhead pylons in the Highlands and Perth and Kinross is also expected to be removed.