Apple map published by Highland Council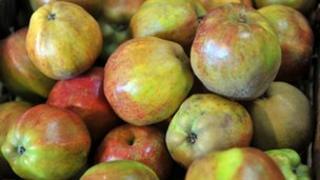 The planting of apple trees could be on the increase in the Highlands, according to the maker of a new map recording where they grow in the area.
Highland Council's Apple Map features 86 sites, including 15 with trees more than 80 years old and 39 with trees younger than 20 years old.
Jonathan Willet, the local authority's biodiversity officer, said a number of new orchards were being established.
They included one near Strathpeffer with 256 trees.
Some of the highest numbers of trees and varieties were recorded in and around Inverness, also on Skye and in Lochaber.
Mr Willet spent eight months gathering details of where the fruit was grown.
He said apples at the orchard near Strathpeffer included seven varieties used to make cider.
The biodiversity officer said: "With the south of England getting less rainfall, new orchards will be planted further north as apple trees need plenty of moisture to grow and set fruit.
"Our survey discovered there are only a handful of commercial orchards in Highland."
Best names
He added: "There were 74 varieties that were named, with one site near Inverness having a remarkable 58 varieties, almost double the number of the next most diverse site.
"Some of the best names of the varieties were Pitmaston Pine Apple, Irish Peach, Enmeth Early and Ballerina Polka."
Mr Willet also hoped to find where Coul Blush, a variety first grown by Sir George Mackenzie at Coul House in Contin, Ross-shire, in 1827, was still grown.
The sweet dessert apple has a yellow skin with a faint blush of red.
Some young trees were found and one old tree near Coul House.