New plaque in Lochaber honours Australian saint Mary MacKillop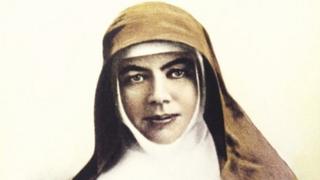 A visit to Scotland by Australia's first saint will be recalled during a ceremony this weekend.
Melbourne-born Mary MacKillop, who died in 1909, was canonised by Pope Benedict XVI at a ceremony in Rome in 2010.
Her mother, Flora MacDonald was born in Fort William and lived in Roybridge, which the nun visited in 1873.
A memorial plaque to be unveiled in Roybridge's Cille Choiril Chapel will record the visit and also honour another notable MacKillop.
Gaelic poet Donald Finlay MacKillop, known as the Keppoch Bard, was buried at the chapel.
The Gaelic Society of Inverness commissioned the plaque last year and will formally unveil it on Saturday.
The ceremony comes in the 145th anniversary year of the opening of the Woods-MacKillop Schoolhouse in Penola, Australia, which is now a museum and visitor centre.
Mother Mary taught children at the school before leaving on the steamship SS Penola for Adelaide, where she established the Cathedral Hall School.
Two miracles
Her uncle, Alexander Cameron, also from Lochaber, had founded the community of Penola in 1845 and was known by its residents as the King of Penola.
Cameron's niece came to the town to act as governess to his children.
With Fr Julian Tenison Woods, MacKillop went on to found the religious order, The Sisters of St Joseph, in Penola and the Woods-MacKillop Schoolhouse.
Her work for the Catholic Church was sometimes controversial. In 1871 she was excommunicated for insubordination.
The Church exonerated her three years later and she was eventually put on the road to sainthood by Pope John Paul II, who beatified her in 1995.
For anyone to become a saint, the Church has to officially recognise them as having carried out two miracles.
Pope John Paul II recognised the first, and in 2009 Pope Benedict credited her with curing a person of cancer.