Scottish air ambulances fly again after safety checks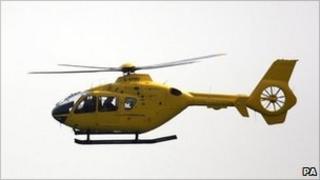 Air ambulance helicopters in Scotland are to resume flying on Wednesday, after being grounded in a safety alert.
In a statement, the Scottish Ambulance Service said it intended to have the aircraft available from 07:00.
The two specialist air ambulance helicopters had been taken out of service as a "precautionary measure" by operator Bond Air Services.
A number of other Eurocopter EC135 helicopters based in the UK were also affected.
The air ambulance helicopters are operated by Bond Air Services.
In Scotland, the alert also grounded the Strathclyde Police helicopter and an aircraft operated on behalf of the Northern Lighthouse Board.
A spokesman for the Scottish Ambulance Service said: "Bond Air Services has confirmed that its EC135 helicopters will resume flight operations from 7am on Wednesday 9th May with an enhanced regime of safety checks.
"Scottish Ambulance Service contingency arrangements worked well while flights were suspended and there was no adverse effect on patients, whose safety, along with our staff, is always the first priority.
"Bond continues to work closely with Eurocopter and is assured that the EC135 helicopters are safe and serviceable."