Independents dominate in Highlands and Islands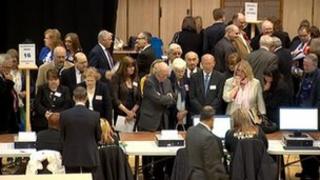 Independent councillors continue to dominate local authorities in the Highlands and Islands.
They retained their hold on the ruling administration of Western Isles Council - Comhairle nan Eilean Siar.
Twenty-one independents were voted in, seven SNP councillors and three from Labour.
Following a delay due to a recount, there are 35 independent, 22 SNP, 15 Lib Dem and eight Labour councillors in Highland.
The final result from Cromarty Firth has left the independents down one, the SNP gaining five, Liberal Democrats down six and Labour up two.
On the Western Isles, the SNP gained four and Labour were up one.
Independents had previously dominated the comhairle's administration.
Negotiations on forming a new Highland Council administration are expected to take several days.
Margaret Davidson, a Highland independent who has been elected for the fifth time, said the make up of the administration could change.
She added: "The folks who voted for me were very clear they did not want to vote for a party."
Among those losing their seats in Highland wards include Bob Wynd, a former provost of Inverness, Dingwall and Seaforth councillor Peter Cairns, fire board convener Richard Durham and former deputy SNP group leader Pauline Munro.
Former Highlands and Islands Liberal Democrat MSP, Jamie Stone, has been elected as one of the three councillors to represent Tain and Easter Ross.
'Valued councillors'
SNP group leader Drew Hendry said his party's strategy to field two candidates in many Highland wards was brave.
He said: "We have had the courage to put forward a number of candidates to make sure we can represent the Highlands properly.
"In many cases that has paid off, but unfortunately it has also meant we have lost one or two hard working and valued councillors.
"But they have been replaced by people who will work equally hard for their communities."
The turnout at polling stations in the Highlands was 41%, while the postal vote was 66%.
There was a 53.85% turnout at the last local authority election in 2007.
Before the election, Highland Council's administration was made up of independents, Labour and Liberal Democrats.
Councillors seeking re-election were not the only ones whose performances were being scrutinised - polling took place on the same day auditions for talent show guru Simon Cowell's X Factor were being held in Inverness.
· All the latest election results are available at bbc.co.uk/vote2012