Row halts Highland fire and rescue service meeting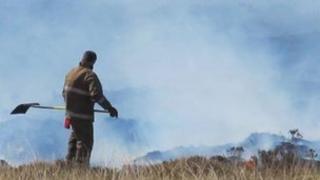 Accounts Commission members walked away from a meeting with the Highlands and Islands Fire Board after board members refused to hold talks in private.
The two sides were due to discuss fierce criticism by the commission of Highland fire and rescue services.
The Commission team wanted to hold their meeting in Inverness behind closed doors, because of the upcoming council elections.
Board members voted against their own chairman, turning down the demand.
The Accounts Commission has raised serious concerns about Highlands and Islands Fire and Rescue Service.
In a report in March said there was an urgent need for the brigade to be run in a way that reflected the area it covered.
HIFRS has one full-time station, which is in Inverness, 95 part-time retained stations and 23 community response units.
The Accounts Commission said this model reflected "historic factors" rather than strategic.
Fire board members and senior officers at HIFRS have said significant progress has been made in improving management and training.