Man arrested in Fort William drug scare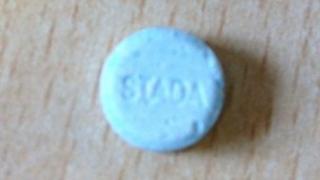 A man has been arrested after 14 people received treatment for the effects of taking what have been described as illicit drugs in Fort William.
NHS Highland said that one person remained in hospital.
Police and health professionals in the town dealt with a number of calls on Saturday night from people who believed they had taken valium tablets.
All were admitted to the town's Belford Hospital. Most of those affected were said to have been men aged 19 to 24.
Police said a 22-year-old man was expected to appear in Fort William Court on Tuesday in connection with an allegation of supplying controlled drugs.
Northern Constabulary said its inquiries into the incident were ongoing, and urged anyone who believed they may have one of the tablets to take it either to Fort William police office or the Belford Hospital.
The force has released an image of one of the tablets.
It is blue with writing on one side, although officers warned that some of the tablets may be brown.
Staff at NHS Highland warned anyone who has obtained or been offered tablets which have not been prescribed to them by a doctor not to take them.
Anyone who thinks they may have swallowed one of the tablets should seek urgent medical attention.
A 41-year-old man was found dead in a flat in Fort William in the early hours of Sunday morning.
However, police said there was nothing at this stage to suggest his death was connected to the hospital cases or the tablets.
A post-mortem examination is due to be carried out to establish how he died.