Worm charming to dig up interest in Highland soil festival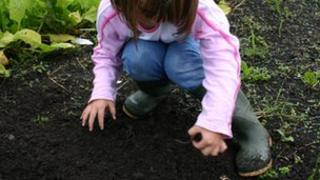 A worm charming contest is to be staged in an effort to get more people interested in the importance of protecting Scotland's soils.
The championship at Lairg, in Sutherland, will be held during the nine-day Highland Soil Biodiversity Festival next month.
Contestants can bring worms to the surface by sticking a garden fork into the ground and making it vibrate.
A winner is decided by who can "raise" the most worms.
Competitions have been held in England since the 1960s.
According to Cheshire's World Worm Charming Championships, a world record was first set in 1980 by Tom Shufflebotham who raised 511 worms.
His record was broken in 2009 when 567 worms were charmed.
Blackhawton International Festival of Wormcharming was started in 1983 after one of its founders, Dave Kelland, relieved himself in a field and was surprised to see worms wriggling to the surface.
Highland Council is co-ordinating the soil festival.
Janet Bromham, a biodiversity officer with the local authority, said: "We have put together a very interesting programme of events all over Highland to try to answer the questions of Why does soil matter? What does it do for us? and What lives in and on it?
"We are holding this festival during Scottish Biodiversity Week because soil and soil biodiversity is receiving more attention from the press and the policy makers.
"The State of Scotland Soil Report was produced last year and yet very few people have a clear understanding of how soils work and why they are important to us."
She added: "We are running a BioBlitz event in Dingwall, where people will get a chance to spot as many different species of plant and animal as they can in 24 hours, and a worm charming championship in Lairg, which, of course, will be judged according to strict International Worm Charming Championship rules."
Scientist Prof Sir John Lawton said he applauded the festival's aims.
He said: "It's the little things, the creepy crawlies, that make the world work, but for most of us, out of sight is literally out of mind when it comes to the creatures that live in the soil.
"And yet they are vital for our well-being, and we ignore the health of the soil environment and the creatures that live in soil at our peril."
More than 50% of the UK's natural soil carbon is stored below ground in Scotland, according to The State of Scotland's Soils.
The report's authors suggested planning authorities should better understand this role of soils and do more to protect prime farm land.
The document's contributors included public agencies and scientists.
Soils support agricultural businesses worth £700m to the Scottish economy, according to the report.
However, it said the use of increasingly heavy farm machinery and how they compact soils posed a potential threat that was not fully understood in Scotland.
Other key threats to the quality of soils identified in the report included the effects of climate change.
Rainfall and temperatures influence the richness of organic matters - such as plants - in soils, the report said.