Bonnie Prince Charlie escape to be retraced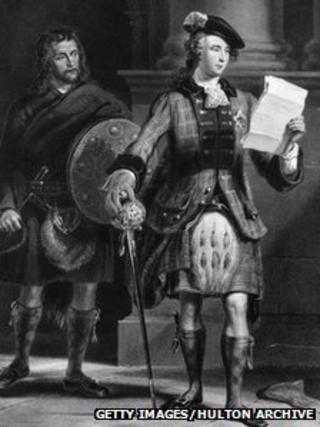 A history enthusiast plans to retrace Bonnie Prince Charlie's escape after his defeat at Culloden in 1746.
Gregor Ewing, 41, from Falkirk, expects to take six weeks to complete his walk through the north west Highlands, Western Isles and Skye.
He hopes to set off on his trek from Culloden battlefield, near Inverness, on Thursday morning.
The prince evaded capture by government troops and eventually fled to France from Loch nan Uamh, near Lochailort.
Mr Ewing's walk is the latest effort to retrace, or recreate, events around the Battle of Culloden.
The Jacobites' ill-fated night march - an attempt to ambush government troops camped at Nairn the night before the battle took place - has been re-enacted twice.
And in 2009, Ian Deveney, from Inverness, and members of his Battlescar re-enactment company recreated the Jacobites' retreat following the battle.
The men, wearing authentic period clothing right down to buckled brogues, trudged to the ruins of Ruthven Barracks south of Aviemore.
Mr Ewing has researched his route using a number of historic accounts of Prince Charles Edward Stuart's journey.
His sources include W B Blaikie's Itinerary of Prince Charles Edward Stuart from His Landing in Scotland July, 1745 to His Departure in September 1746.
Mr Ewing said: "I think that the biggest challenge for me will be making sure I get the daily miles in, so that I make good progress.
"I have been putting in a lot of training, so I should be well prepared.
"The route is through some incredible landscapes, some of which are quite intimidating."
He added: "One of the trickiest parts is the probably going to be going from Glenfinnan to Glen Shiel, as there are some serious peaks to conquer there and it is very wild and remote.
"This is also where Bonnie Prince Charlie was in greatest danger of being caught, so it's a good insight into his experience all those years ago."