Otter found in Fort William seafood restaurant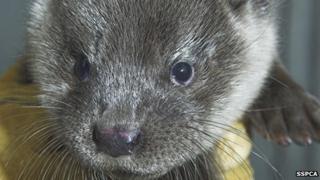 A young otter is being looked after by an animal welfare charity after being found inside a seafood restaurant in Fort William.
The 10-week-old female along with a 12-week-old male found hiding under a post office counter in nearby Caol a few days earlier could be orphans.
The Scottish SPCA (SSPCA) said the pair were not thought to be siblings.
They are being cared for at the charity's Wildlife Rescue Centre in Fife until they can be released.
The male, who has been named Roy, was found in Caol on 16 February.
On 20 February, the SSPCA were called to a seafood restaurant in Fort William to rescue the female. She has been called Linnhe.
Rescue centre manager Colin Seddon said it was unusual for otters to wander into a public place.
He said: "Roy and Linnhe have probably come from a water course nearby, possibly Loch Linnhe.
"Because of their difference in age we know they can't be siblings but they have obviously both come from the local area.
"It's likely that their mothers have possibly been killed or frightened off and, because the cubs' eyesight is very poor at such a young age, they have been unable to find them again."