Fast internet access for Highland business 'essential'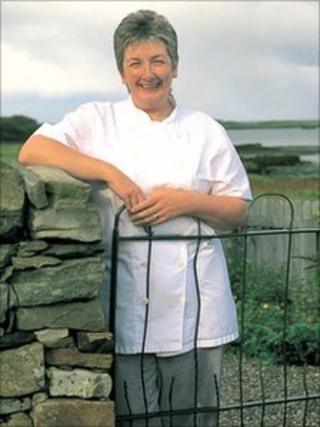 Giving customers instant and reliable access to the internet is now a "basic essential" for Highland businesses, an award-winning island restaurant owner has said.
Shirley Spear, who runs The Three Chimneys on Skye with her husband Eddie, also said social network sites had helped to boost trade.
The couple are among businesses and individuals in the north exploiting communication technology.
But the Spears and others have also been frustrated by poor connectivity.
Broadband speeds and mobile coverage in the Highlands and Islands has been a long-running issue.
In 2009, a Highlands and Islands Enterprise-commissioned report warned that the region was at risk of lagging behind the rest of the UK in the roll-out of next generation broadband.
In the same year Danny Alexander, Liberal Democrat MP for Inverness, Nairn, Badenoch and Strathspey and now also a UK government minister, said speeds in Inverness were a "disgrace".
A roll-out of "super fast" broadband across the area could start in 2013 under plans by Highlands and Islands Enterprise, if negotiations with BT are successful.
Last year, Highlands and Islands politicians - including Liberal Democrat Charles Kennedy and the SNP's Angus MacNeil - lamented the lack of reliability of the services.
Mr MacNeil said the Western Isles had a poorer phone network than Rwanda.
And, while welcoming a UK government announcement of £150m-worth of investment in mobile coverage across rural areas, Ross, Skye and Lochaber MP Mr Kennedy said poor signal was a "tremendous problem" in the north.
The Three Chimneys, an award-winning restaurant, sits on the shores of Loch Dunvegan at Colbost in north-west Skye.
The Spears also run The House Over-By, a "romantic holiday hideaway".
Mrs Spear said the internet had quickly grown in importance in promoting their business and also as a service to offer to guests.
The restaurant and guesthouse have Twitter and Facebook accounts and a website.
But Mrs Spear said: "Broadband is very patchy, as everyone is aware.
"However, as a small operation, we have done everything within our power to improve our signal through BT and we have a reasonable connection.
"We have also, over recent years, introduced wi-fi for our guests and have already improved the capacity for this to other areas of our complex, including the new offices above the restaurant and the kitchen office."
She added: "There should be no doubt in anyone's mind that free wi-fi for guests is a basic essential for people visiting the Highlands and Islands.
"These visitors are so used to having a minimum of 3G coverage wherever they live, work and travel they can hardly grasp the idea of not having it when they visit the Highlands.
"Even when the local connections are operating a little slower than normal, such as they did during recent extreme weather, visitors find this very hard to understand.
"With the widespread usage of iPhones in the past three years, visitors expect internet coverage wherever they go, and are actively encouraged to use their hand-held devices to find local information directions.
"There is no going back, only forwards in leaps and bounds."
The Cairngorms Partnership, whose members include hundreds of businesses in the UK's largest national park, said firms risked losing out on trade if they did not "pull out all the stops" to engage with customers online.
It launched the Cairngorms App, the first app in the world to give visitors to a national park access to free, up-to-date information on where to stay, what to do and where to eat and drink based on their location within the park.
Partnership chief executive Alan Rankin said: "It is vital that tourism businesses embrace and engage with all forms of interacting with visitors - via social media, apps, websites as well as the traditional marketing channels.
"The importance of an area or a business being easily accessible to the customer is more important than ever before considering the increased competition and economic downturn.
"People are more selective with how they spend their money and are making last minute decisions on the move as to what to do, where to stay and where to eat, so a business or destination not pulling out all the stops to engage with the visitor on every level will lose out."
The partnership's Visit Cairngorms Facebook page has more than 6,500 friends and more than 3,000 follow its Twitter page.
First game
Good broadband and mobile connectivity in the national park is crucial to photographer Andrew Smith, 37, who works from Laggan, near Newtonmore.
He said: "I can get a good reception on my mobile near the summit of CairnGorm.
"In Kingussie it is not bad, but it's not so good in Newtonmore and while travelling north on the A9 I might get a minute or so of reception once I get close to Inverness.
"The quality of reception depends on what network you are on."
Mr Smith has a wide interest in technology and published his first game for use on smartphones last year.
He said: "The game's name is Seq and I publish it under the trading name of Brain Ache Games. It is available for Android smartphones.
"I have two other game projects in the works."
One of the games he is working on would be for use on iPhones or Facebook.
'Really proud'
Another Highlander embracing new technology in the face of network issues has been 15-year-old Michael Lawrie, from Fort William.
He has had three apps accepted by Apple for use on iPhones and iPads. His applications were accepted over a five-week period.
Michael was encouraged to start developing iPhone apps after helping a cousin of his mother Lyn to get her Apple TV working.
The cousin had been planning to send the device back to Apple for repairs before the Lochaber High School fourth year pupil successfully installed it.
One of her friends was so impressed she said the teenager should try creating apps.
Michael's mother said: "Six months later Atomic Dodge Ball went live on the AppStore for the world to buy.
"One of the things Michael is really proud of is the fact Apple accepted it on his first attempt at sending it to them."
Mrs Lawrie added: "Michael has never had any computer training and everything he learnt along the way was either from the app-making manual, or research through the internet."
The teenager followed up Atomic Dodge Ball with an app called Hungry Rudolph and a "lite" version of his first game which people can try before purchasing the full version.
Mrs Lawrie said Michael had previously managed to improve the performance of their home computer, though initially she feared he was going to break it.