London-Scotland move woman sues ex for £500,000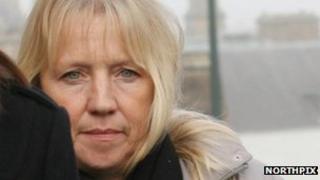 A woman is suing a former partner for £500,000 after claiming he convinced her to move to Scotland from London and broke a marriage promise.
Julie Zelent, 51, who now lives in the US, said her two-year relationship with Inverness businessman Alan Savage, 61, left her "economically disadvantaged".
She said she had been unable to find work since they split up in 2008.
Ms Zelent is claiming for loss of earnings, employment benefits and pension rights.
The hearing at Inverness Sheriff Court continues.
Ms Zelent said that, after meeting on a flight from Edinburgh to London in June 2006, Mr Savage, a widower at the time, later convinced her to give up her £54,000-a-year IT job with Royal Bank of Scotland and join him in Inverness.
Mr Savage runs a company called Orion and is a former chairman of Inverness Caledonian Thistle FC.
Ms Zelent told the court that the bank said it was not possible for her to work out of Inverness but Mr Savage offered her a job at his company.
She said: "He said it made sense for me to give up my job because he couldn't.
"He tended to dismiss my job. He thought his job was more important than mine.
"He was the big boss of Orion and said he could not leave and move to London.
"I was concerned and described it to him as hanging on to the edge of a cliff by my fingernails. He said 'all you have to do is let go and I will catch you. I will look after you'."
The court heard Ms Zelent's claims that he insisted on her looking her best at functions, never to wear the same clothes twice and to continually go to beauticians and hairdressers.
After Mr Savage's son complained about her working for the company, Ms Zelent resigned.
For her financial security she told the court Mr Savage said he would open a bank account and put £4,000 in it a month for her use.
The couple talked of marriage in 2008 before Mr Savage asked her to leave, the court heard.
Ms Zelent claims the experience had left her "economically disadvantaged".
The civil hearing before Sheriff Margaret Neilson continues.