Director at Scottish Open course recalls 'freaky' day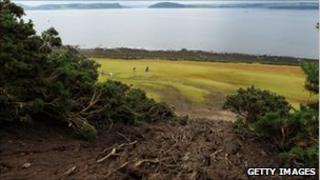 A boss at golf's Scottish Open venue has said preparations have started for next year's tournament after this July's event was hit by bad weather.
Castle Stuart's marketing director Fraser Cromarty described thunder storms that wiped out an entire day's play as a "freaky incident".
Heavy rain caused a landslip at part of the course near Inverness.
Mr Cromarty also said the European Tour was progressing in its search for a new sponsor after Barclays withdrew.
Recalling this year's storms and recent warm autumn weather, Mr Cromarty told BBC Radio Scotland: "Last Wednesday and Thursday we were playing in shorts and t-shirts.
"It's bizarre. The climate is changing. Who would have thought what happened in July would have happened.
"It was the most freaky incident."
Following this year's tournament, a scientist said the weather disruption was just bad luck.
'Much drier'
Prof John McClatchey said the links course at Castle Stuart was in one of the driest parts of Scotland.
The scientist researches climate at North Highland College UHI's Environmental Research Institute (ERI) in Thurso, which is part of the University of the Highlands and Islands.
He said a slow-moving weather system brought heavy rain to the Highlands course and the nearby surrounding area.
Prof McClatchey told the BBC News Scotland website in July: "What happened on Saturday at the Scottish Open was unfortunate.
"One of the interesting things is that if you went further along the coast towards Nairn, or west of Inverness, you would have found that it was much drier.
"This was quite a narrow system that was probably only a few miles wide and perhaps about 10 miles in length, but was just sitting over Castle Stuart."
He added: "Basically, it was just bad luck."