Chinook low flying ahead of Exercise Joint Warrior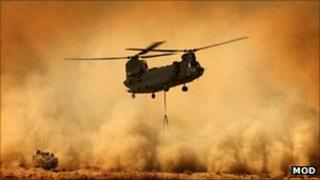 Military helicopter crews have been training in low flying over the Highlands ahead of a major UK-led Nato exercise.
A Chinook has been flying low over Loch Ness, Inverness and Ullapool as part of what the Ministry of Defence (MoD) called a medium scale exercise.
The training has been held ahead of Exercise Joint Warrior, which will take place from 3-17 October.
Joint Warrior is held twice a year, with the first staged in spring.
According to an MoD website, the sea, air and land training will mostly take place in the Highlands, Western Isles, the Borders and north east England.
The public have been told to expect large formations of fast jets.
Up to 40 Nato aircraft may take part in training simultaneously, the MoD said.
During the first of this year's Joint Warrior exercises, a German World War II mine was detected at the entrance to Loch Ewe in Wester Ross.
The device was destroyed in a controlled explosion by Dutch mine sweeper HNLMS Willemstad.
In war-time, the loch was used by British submarines and was a gathering point for convoys headed for North America, Russia and West Africa.
The mine found in April this year could have been laid by the submarine U-31, the Royal Navy said.
In December 1939, U-31 was thought to have laid mines near Loch Ewe. That same month, mines there damaged the ship HMS Nelson, and later caused the losses of HMS Promotive and HMS Glen Albyn.