Danny Alexander and Keith Brown clash over A9 funding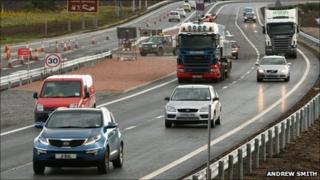 The chief secretary to the Treasury has accused the Scottish government of focusing on central Scotland transport projects rather than improving the A9.
Danny Alexander made his comments while attending a transport conference in Inverness - less than 24 hours after a new section of the road was opened.
Scottish Transport Minister Keith Brown attended the same conference.
He said the SNP was committed to upgrading the A9 and accused the UK government of constraining spending.
The new stretch of the A9 in the Highlands was fully opened to traffic on Monday almost a year after work started on it.
'So disappointing'
Work to extend the dual carriageway south of Newtonmore in Glen Truim by 1.9 miles (3.2km) cost £10.4m and started in November 2010.
Mr Alexander, Lib Dem MP for Inverness, Nairn, Badenoch and Strathspey, said the Scottish government should further improve the Highlands' connections with central Scotland.
He told BBC Alba: "We need to see investment that was promised on improving the A9 being delivered.
"We need to see investment in our rail network and that is why it is so disappointing the Scottish government has chosen to focus the vast majority of its transport budget on two major projects in the central belt.
"The Highlands once again loses out."
'Tram system'
Mr Brown said the Scottish government had already spent £15m on the A9 and wanted to put more funds towards improvements.
He said: "Danny Alexander has to decide what he wants.
"If he doesn't want Scotland to have borrowing powers, or independence and the economic levers we can have with that, then of course that is going to produce constraints."
Mr Brown added: "He should maybe ask his MSP colleagues in the Lib Dems why they sought to prefer spending £774m on a tram system in Edinburgh than spending money to, for example, spending money on the A9."