Rare sighting of sperm whale off Skye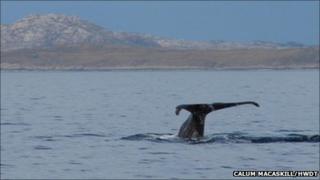 A rare sighting of a sperm whale has been made off Skye.
The large marine mammal was seen and photographed by islander Calum MacAskill and his wife on a boat trip in the Sound of Raasay last Saturday.
Hebridean Whale and Dolphin Trust (HWDT) said the last confirmed sighting of a sperm whale in the area was made in 2008 off Canna.
A bull sperm whale can grow to 20m (67ft) long and is the largest living toothed animal.
HWDT said the Skye sperm whale was believed to have been a male and was feeding at the time.
However, the MacAskills and HWDT researchers noted possible injuries to the animal.
British Divers Marine Life Rescue have been notified as a precaution in case the whale later strands itself.
Sandra Koetter, HWDT's sightings officer, said sperm whales seen in the area were usually in waters reaching down to depths of 100m (328ft).
She added: "Sperm whales are a deep-diving cetacean, making long dives to hunt for prey, which is mostly cephalopods such as squid or cuttlefish."
In 2008, a sperm whale beached near Inverness and later died.
The 12m (40ft) long animal's appearance in the Inner Moray Firth was described by one expert as like finding a panda in a supermarket.