Skye's Atlas Arts 'delighted' with Bonnie Boat project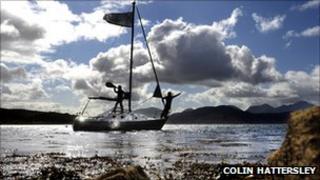 A new arts group on Skye has said its first major public event was a success.
Atlas Arts, along with artists Zoe Walker and Neil Bromwich, gathered contributions from about 130 people for Bonnie Boat, Bata Breagha in Gaelic.
Songs, sounds and interviews recorded over several weeks on Skye and neighbouring islands were broadcast from a yacht on Saturday.
The yacht, the Celeste, is decorated with 60,000 mirrored tiles and was anchored off Portree.
Poet Maoilios Caimbeul was also involved in the broadcasts. Artist Deirdre Neilson had asked for people to make knitted fish and received 150 from all over the UK.