Isles MSP backs shooting geese to help protect crops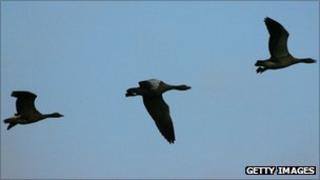 Shooting wild geese to control their numbers on the Western Isles has been supported by the islands' MSP.
Skeins of thousands of greylag geese have been blamed for causing severe damage to grass and crops for years.
Fireworks are provided to scare birds under the Uist Goose Management Scheme, whose backers include Scottish Natural Heritage and RSPB Scotland.
But Alasdair Allan said a lot more could be done "by way of shooting to solve the problem".
He made his call after seeing the goose management scheme in action. The scheme is run as part of a four-year project called Machair Life+.
The SNP MSP's comments came as RSPB Scotland asked for reports of geese arriving for the winter.
Sightings of pink-footed geese were received from Aberdeenshire and the Cromarty Firth during Monday.
Greylag numbers on the Western Isles has been a long-running issue for crofters.
In 2009, they called for a major cull of the birds ahead of the following summer's harvest of grain crops and grass.
The Uist Goose Management Scheme offers fireworks, kites and special fencing to frighten geese away from pastures and arable crops.
Fourteen people are also employed to scare geese from August through to October.
Mr Allan said he had been encouraged by the scheme but said crofters still needed more help.
He said: "What is important, I believe, is that this is an issue which has united crofters and environmentalists alike, recognising that many other wild bird species in the islands depend on crofting for their habitat.
"There is still a lot more that could be done by way of shooting to solve the problem and I am keen to engage with local estates to see if this can be facilitated.
"Indeed, although it may seem surprising initially, this is a solution which even the RSPB are very open to."
Mr Allan said he would make representations to the Scottish government over the future of the scheme once the Machair Life+ project ends in two years' time.
He added: "There is still a lot to be done to address this problem, but it is heartening to see a community which is working together and doing so much to address a common problem."