Dounreay nuclear site rocks added to Nottingham archive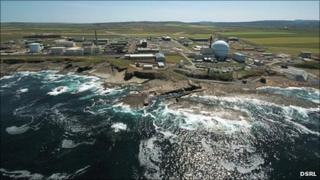 Rock samples taken from a nuclear site were first checked for radioactive contamination before being added to a national collection held in Nottingham.
Six hundred boxes of stone have been sent from Dounreay in Caithness to the British Geological Survey's (BGS) national rocks repository.
Each cylinder-shaped metre-long sample, called a core, was monitored at Dounreay for potential contamination.
The samples will be available to scientists and geologists to study.
Dounreay, an experimental nuclear power site built in the 1950s, is being demolished.
Over the years, rock samples were taken to assess how suitable the ground was for later facilities, including a store to hold low-level radioactive waste.
The cores were taken from boreholes drilled into the ground.
Fish fossils
The rock under Dounreay is Caithness flagstone.
Dounreay Site Restoration Limited (DSRL) and its contractors still have access to the samples for any future analysis of the area's rock strata.
In the late 1980s and early 1990s, the now defunct Nuclear Industry Radioactive Waste Executive (Nirex) looked at Dounreay's suitability as the site for a controversial deep underground nuclear waste dump.
Some of the cores drilled during this time were found to contain fish fossils.
Nirex later rejected Dounreay and concentrated its research on building the store for intermediate and low-level waste at Sellafield in Cumbria.
The BGS collection in Nottingham also contains cores made during North Sea oil and gas exploration work.