Inverness flood plan 'half-baked' community leader says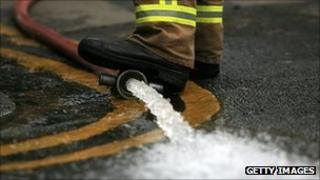 Highland Council's plans to alleviate flooding in Inverness have been criticised by Smithton and Culloden Community Council's chairman.
David MacGrath said the council's pledges were similar to those after severe floods hit the city in 2002 and described them as "half-baked".
The local authority held a public meeting in Culloden on Thursday evening to discuss recent flooding.
Highland is to look at how to clear culverts and gullies more quickly.
The council said the rain that fell on the city on 6-7 August exceeded the total monthly average for the area for the entire month of August.
Following the meeting, Inverness provost Jimmy Gray said short-term measures would include investigating how to reduce flood waters through clearing debris from ditches and other drainage systems.
He said long-term measures such as making drains bigger would need to be carefully considered.
Mr Gray said: "Before we do that we have to be very clear about what the impact will be.
"We need to understand that if we change something that's in there what would that do?"
The council will hold another meeting in three months time to update the public on a report and recommendations on how to reduce the risk of future flooding.
Mr MacGrath said the council and developers were only concerned about putting in place flood prevention measures at individual sites and were not "thinking about the bigger picture".
He said: "After the major 2002 floods we had the same lot of promises and half-baked offers, but they were never really followed through.
"They need to be looking at a well co-ordinated Inverness-wide drainage and flood control plan."
Highland Council has been working on large-scale flood prevention projects.
They include the £10m South West Inverness Flood Relief Channel.