Prince Charles visits Nybster broch in Caithness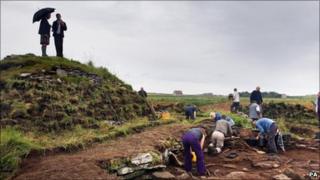 The Duke of Rothesay has visited the site of one of Scotland's most important mainland broch settlements.
Archaeologists and volunteers have been uncovering the remains of the stone roundhouse that could date back to 700 to 500 BC at Nybster in Caithness.
Prince Charles stopped off at the site and visited Caithness General Hospital in Wick on a tour of the far north.
The hospital was officially opened 25 years ago by his grandmother, the Queen Mother.
Caithness has more brochs per square mile than any other part of Scotland, according to Highland Council.
Examples of the ancient buildings are also found on Orkney.
What lies beneath Nybster has intrigued the dig team, which is being led by AOC Archaeology and Caithness Archaeological Trust.
Andy Heald, of AOC Archaeology, believes the site may have been occupied long before the Iron Age and provided habitation to various communities for 1,000 years.