Canna's new islanders barred from cottage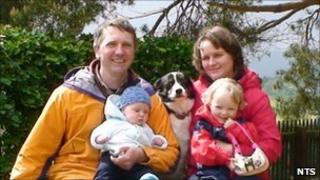 A family have been unable to move into their designated home on the National Trust for Scotland-owned island of Canna because of a planning issue.
The Spence family moved to Canna from Laggan, Inverness-shire, a few weeks ago.
Alternative accommodation has had to be provided while NTS resolves a planning matter concerning an extension to the cottage.
The extension sits on croft land which is controlled by strict planning rules.
In a statement, the trust said: "Due to an error with plans, the Spences have been unable to move into the house originally intended for them.
"They are living in alternative accommodation while the trust works hard to remedy this situation as quickly as possible.
"Both the Spence family and the community have been made aware and kept updated on progress."
Duncan Spence, his wife Alison and their two young children have arrived at a time when Canna's population has been in decline.
Geoff and Eilidh Soe-Paing and their four children are about to leave and when they do the island's school will be mothballed until the Spence children are old enough to attend.
Another couple are also leaving to move to the nearby island of Eigg.