New group to examine rural education in Scotland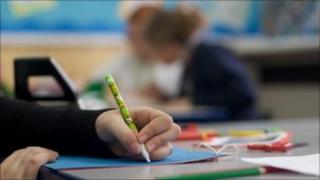 Parents, head teachers and council chiefs make up the membership of a new commission that will investigate the delivery of education in rural areas.
Education Secretary Michael Russell said its membership struck the right balance "of all interests at stake".
The group's chairman is Sheriff David Sutherland, from Tain, in Easter Ross.
Members include Aberdeenshire Council leader Anne Robertson, Scottish Borders Council education chief Glenn Rodger and Angus head teacher Peter Ferguson.
Other members are Orkney Council leader Stephen Hagan, Inverclyde Council education convener Terry Loughran, East Lothian Council education convener Peter Mackenzie and Comhairle nan Eilean Siar chief executive Malcolm Burr.
Sandy Longmuir, of the Scottish Rural Schools Network, Anne Baird, of the Argyll Rural Schools Network, Prof Cara Aitchison, Prof Bill Slee and Bob Cree-Hay, of the National Parents Forum, have also been appointed to the commission.
Two final members have still to be nominated.
The commission's remit includes a review of the Schools (Consultation) (Scotland) Act 2010.
Mr Russell said: "Access to high quality educational opportunities is key to the sustainability of rural communities.
"The Commission on Rural Education is now tasked with looking at all aspects of education in rural areas.
"The individuals gathered together strike the right balance of all the interests at stake here, as well as being a knowledgeable group of experts on these issues."
He added: "The group will report back next spring with a number of recommendations on the way forward for the delivery of education in rural areas."
Cosla president Pat Watters said local authorities had no greater responsibility than the delivery of education.
He said: "The task in front of the commission is not an easy one, but I feel sure that with the expertise round the table it will produce a thoughtful report.
"Along with the cabinet secretary I look forward to seeing the recommendations next year."