Plan being finalised on resolving A9 overtaking lane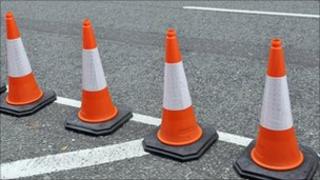 A plan is being finalised on resolving a safety problem with a new overtaking lane on the A9 in the Highlands.
The northbound overtaking lane at Moy, south of Inverness, stretches to less than a mile and cost £2.8m to build.
It has been closed since 19 November 2010 following concerns about traffic crossing to a junction near the end of the lane.
Transport Scotland said subject to agreement work on the lane could start within a month.
A routine inspection flagged up concerns over the behaviour of some drivers on the new stretch of road.
A spokeswoman for Transport Scotland said: "Transport Scotland, while keeping the local community informed, has considered several options for Moy and is currently finalising its proposals.
"Subject to final agreement we expect work to commence within a month, following which the cones will be removed.
"Prior to works commencing, we will fully inform the local community of the proposed plans."