Shopping baskets at dawn in the Highlands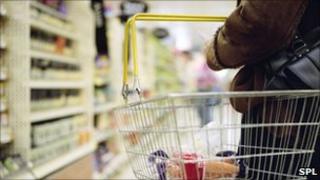 Asda's efforts to open its first store in the Highlands has been like trying to push a shopping trolley with a wonky wheel in a straight line.
The retail giant's plans for shops in Inverness and Tain have faced legal challenges - including the one from rivals Tesco which was dealt with in the Court of Session in Edinburgh on Tuesday.
Judge Lord Malcolm rejected Tesco's bid for a judicial review of Highland Council's approval in principle of Asda's planned store in Tain.
This week also saw the Scottish government clear the way for Asda to push ahead and build at Slackbuie, in Inverness.
The chain unveiled the site back in May 2006.
Since June last year, Scottish ministers had been holding back on giving consent until they were content suitable measures would be put in place to deal with traffic congestion.
'Interesting battlegrounds'
Traffic had been a big concern for Highland Council.
In September 2009, Asda agreed to contribute £1.5m towards improvements to roads leading to the store.
Highland Council, while not opposing the planned store, had been prepared to go to the Court of Session over the cost of road improvements.
The local authority was worried it would end up footing the full cost of the work.
Inverness Estates Ltd, a consortium of developers, had also threatened legal action over the roads matter.
The decisions over the Asda stores in Inverness and Tain mark the latest developments in the Highlands and Islands retail market.
In the summer of 2008, the region emerged as a new frontline in the UK supermarket store wars.
Chains such as Aldi, Asda, Lidl, Sainbury's and Tesco were all vying to open new outlets in the region.
Experts said the activity in the north of Scotland had made it one of the most interesting retail market battlegrounds in the country.
Leigh Sparks, professor of retail studies at the University of Stirling, told BBC Scotland news online at the time that there was a "mixed bag of reasons" for what was happening.
He said Tesco's often criticised domination of Inverness may have attracted rival chains to consider a market they had previously ignored.
Tesco have three stores in Inverness and plan to build to a fourth.
The Grocer magazine was also watching and reporting on the Highlands and Islands.
News editor Ronan Hegarty told BBC Scotland news online: "The supermarkets spend a lot of time and money on research before they decide on a site.
"But they've pretty much squeezed every inch out of Britain's mainland."
He said the Highlands and Islands had become one of the "more interesting battlegrounds at the moment".