Losing police stations 'a shame' says retired officer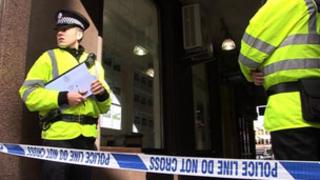 Hugh MacKay witnessed huge changes to policing in the Highlands and Islands during a career in uniform spanning 35 years from 1963 to 1998.
Smaller forces covering the area were amalgamated, the population mushroomed, attitudes to drink-driving changed and illegal drugs became more prevalent.
Through it all he strongly believes local police stations were key to achieving high detection rates and low levels of crime.
Mr MacKay saw numbers of officers rise in line with a population swelled by people arriving to work in the oil industry.
He said: "People are the business of the police so we needed additional numbers to cope.
"When I retired in 1998, the strength of the force was around 650 officers and it has since crept up to around about 800.
"But, of course, that will fall back now."
Starting in Dornoch, his career included spells in Stornoway, Dingwall, Invergordon, the Scottish Police College, Inverness, Nairn and Aviemore.
He returned to Dingwall in 1992 as superintendent and area commander.
'Bigger force'
His 35 years were punctuated by mergers starting with Sutherland Constabulary joining with Ross and Cromarty Constabulary in the 1960s.
In 1975, Northern Constabulary, which had covered Caithness, Orkney and Shetland, amalgamated with forces covering Ross-shire and Sutherland, Inverness, Nairn, Badenoch and Strathspey and parts of Argyll.
Mr MacKay said: "That meant we were a much bigger force, but we did get increases in strength because of things that were taking place."
The North Sea oil boom created opportunities for deep water fabrication yards at Ardersier, Nigg and Kishorn.
But for the Highlands, this work flared brightly for a short time before sputtering out leaving the yards largely mothballed and falling into disrepair.
Mr MacKay said: "Demand waxed and waned and the need for oil platforms increased, decreased then disappeared.
"We went through quite a period of change from an area where the principal industries were agriculture, tourism, some distilling and fishing to one of which was heavy industrial. It has come back from that heavy industry now."
He added: "We didn't have any cuts in strength during my time in the police, though there were rules imposed such as restrictions on working hours."
Overtime was unheard of when Mr MacKay first joined.
If extra hours had to be worked - particular in the summer - officers did those unpaid, knowing there would be less busy spells over the winter.
Mr MacKay said: "A lot of officers then regarded the job as a vocation.
"Officers in the remote, one man, stations were on-call all the time apart from their days off.
"If the officer was out of the station then his wife took any calls and would pass them on when he got back."
Not every vehicle was fitted with a radio, meaning on occasions an officer would not be able to respond to calls until he had access to a telephone.
Mr MacKay said: "Communication systems weren't anything as sophisticated as they are now.
"The internal communications today are far beyond anything we could have dreamed of and transmissions are encrypted, ending the problem of people listening to police calls on a domestic radio. That is spot on."
But he added: "It seems to me a shame that we are losing the most important communication which is our communication with the public through police stations.
"One of the ways in which the force in the north achieved success was because of its ability to relate to the populace and the contact with it."