Charles Green takes Rangers to court over legal fees after his arrest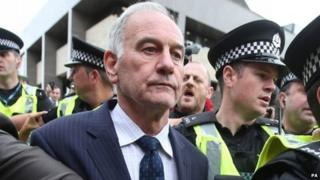 Former Rangers chief executive Charles Green is taking the club to court in a bid to get them to pay his legal fees after he was charged with serious organised crime offences.
BBC Scotland has learned that Mr Green claims his contract with the Ibrox club entitled him to legal cover during and after his spell in charge.
His lawyers have written to Rangers and want a court ruling on the claim.
It is understood the fees involved could be in excess of £500,000.
The court ruling could happen as early as next week.
Mr Green and a number of others, including the club's former owner Craig Whyte, were arrested and charged earlier this month.
The moves followed an investigation by Police Scotland into off-field events at the club in 2012 and 2013.