Imran Ahmad will not co-operate with Rangers fraud probe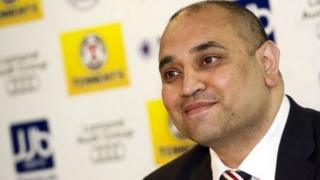 Former Rangers director Imran Ahmad has said he will remain overseas and not co-operate with an investigation into the sale of the club's assets in 2012.
Mr Ahmad spoke out after four other men were charged over the deal.
He accused police of being "emotionally connected" to Rangers and described the club as "a religion built on religious bigotry". He also said he would not get a fair trial anywhere in Scotland.
Police Scotland, the Crown Office and Rangers all declined to comment.
A Crown Office spokesman said: "As proceedings are live for the purposes of the Contempt of Court Act 1981 it would be inappropriate to comment."
A police spokeswoman also said that "it would be inappropriate to comment" and this was "a live inquiry".
A spokesman for Rangers declined to comment.
Ahmad, the club's former commercial director, left Rangers in controversial circumstances in 2013 and later reached an out-of-court settlement with the club.
He arrived with Charles Green, who led a consortium which purchased the club's assets following administration and liquidation.
That asset purchase in 2012 has been the focus of a police investigation.
Earlier this month, four men appeared in court to face charges over the alleged fraudulent acquisition of the assets.
They were 62-year-old Mr Green and 44-year-old Craig Whyte, who had bought the club from former owner Sir David Murray in 2011 and was at the helm during its financial collapse the following year.
Two other insolvency practitioners were also charged over the deal.
They were David Whitehouse, 50, and Paul Clark, 51, who worked for Duff and Phelps and acted as joint administrators for Rangers during the 2012 insolvency.
Following the court appearances, Mr Ahmad emailed the BBC to say that his legal representatives had contacted the Crown Office in a bid to ascertain if he would face any charges.
He said he was initially prepared to return to the UK from overseas, where he has been working.
'Safe passage'
Mr Ahmad said: "I was promised a letter by the Crown...by close of business 4 September 2015 which would also confirm that I would not be arrested at UK border control or by Police Scotland and could attend court on the 29 September 2015 to answer the warrant petition which I wanted to fully cooperate with."
Mr Ahmad continued: "A few days ago, the Crown reneged on their promise to provide me with a safe passage letter.
"My legal team and I have grave concerns about a defendant in this case being able to receive a fair trial anywhere in Scotland let alone Glasgow.
"Every social media site in Scotland has presumed all the defendants to be guilty before a trial has even taken place or for that matter before individuals have even been indicted."
Mr Ahmad said that he had recently "received death threats by phone and online".
He described Rangers fans as "a tribe", adding: "What the rest of the world will never understand unless they experience it first hand is that Rangers Football Club is a religion, in itself, built on centuries of religious bigotry."
The former director also accused Police Scotland of being "an establishment institution which itself is deeply rooted and immersed in Rangers Football Club's history for well over 140 years".
Mr Ahmad said: "I firmly believe Police Scotland have their own agenda and are deeply emotionally connected to Rangers Football Club. In my view Police Scotland have a clear conflict of interest."
He added: "I have decided not to attend the Crown's 'invite' warrant on the 29 September 2015 and will remain overseas until the trial is over when I will return to the UK."